Global Chamber® Caribbean
Global Chamber Caribbean helps members get business done across metro areas!
We are a thriving and collaborating community of CEO's, executives, and professionals growing business across 525 metropolitan areas. We leverage technology and our collective networks around the world to help member companies grow, reduce risk, be more productive, and succeed faster.
We are the only organization in the world with the mission to grow business from anywhere to anywhere while collaborating with every organization. We help companies, investors and business service providers around the world succeed.
Reach out to see how we can help at FPO@globalchamber.org or connect with the experts in our Regional Desks.
Caribbean Advisors
Ms. Ray Huggins, Global Advisor for Antigua & Barbuda
Ms. Ray Huggins is a goal oriented individual, with a keen interest in trade development between the Caribbean and the African continent. Multi- faceted, able to embrace changes rather than fear it. I possess an inner drive in the area of business development and believe strongly in small business entrepreneurship especially in the Caribbean Basin.
Ms. Huggins is focused on her relations with the said African State of Nigeria and the Caribbean, in the Capacity of cross cultural exchange, Trade, Manufacturing, Investment to name a few but not limited to, all of which have been blossoming.
Mr. Trevor Bradley, Global Advisor for Belize
Trevor Bradley is the Senior Client Services Specialist for Georgetown Trust, Ltd., and working with the company for over 10 years, in corporate, administration, marketing, and sales. He is a Justice of the Peace and Commissioner of the Supreme Court in Belize, gaining a wealth of experience in this jurisdiction, banking and tourism industries over the past 20 years, with a thorough grip on its political and economic history. His professional background includes conferences in various cities across the United States and around the world, and participation in both government and private sector activities.
Ms. Marsha Lewis, Global Advisor for Barbados
Marsha Lewis is a change management expert, specializing in Strategy and Vision Setting, Human Resource Management, Communications and Process Re-engineering. She has worked in the financial services sector, telecommunications and information technology industries in the Caribbean, Latin America and the USA and has done extensive work in the areas of organizational design, transformation and change. The former Executive Vice President Human Resources with Cable & Wireless has held executive responsibility for human resources for C&W's Caribbean portfolio of 13 islands served by seven trade unions and 11 bargaining units. A trained organizational and executive coach, Marsha has also served as Head of HR Operations and Planning with CIBC First Caribbean International Bank. She has lead the Human Capital portfolio of LCI Inc for the past nine years through which she and her team lends support to a suite of organizations both the in the private and  public sectors in the Caribbean, US and Latin America with significant focus in the developmental space.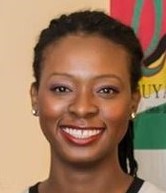 Ms. Shabakie Fernandes, Global Advisor for Guyana
Shabakie Sheena Fernandes is one of the founders of the recently launched African Business Roundtable in Guyana. This is a new initiative to empower youths to hone in on their entrepreneurial skills and to become self sufficient. Ms. Fernandes felt that by being an advisor with the Global Chamber she would be able to bring more opportunities to this demographic.
Being an educator with over 10 years experience Ms. Fernandes sees the need for partnering with the Global Chambers to bring more investments to Guyana which will in turn be used as a push for positive social and economic changes. She has managed multiple projects for international organizations such as UNAIDS, Global Fund and the Vatican.
Ms. Fernandes holds a BA in Conflict Resolution and Peace Studies, LLB Law, MSc. Criminology and Criminal Justice and a MSc. Clinical Psychology. Empowering women and girls is a passion of Ms.Fernandes which saw her being at the helm of the I CAN Foundation.
Ms. Valini Kirton-Leitch, Global Advisor for Guyana
Valini Leitch is the only child to parents who have been in business for most of their adult lives. After completion  of Secondary School she ained employment at the family business where she managed the daily administrative duties of the family poultry farm (Anna's Organics) while attending university.
Upon completion of university she married Mr. Darwin Leitch who also owned and operated a very lucrative mining company, where she worked as the Human Resources Manager for close to a decade, during this time together, they developed DLV Group and Customized Management Solutions of which Ms. Leitch is a Managing Partner.
After being in business for many years, Ms. Leitch have an understanding how beneficial organizations such as Global Chambers can be for businesses especially when it comes to sourcing financing which at can be very tedious especially in Guyana.
Mr. Gordon Stenhuijs, Global Advisor for Suriname
Moved from Suriname to the Netherlands in 2002 with the goal to expand my professional horizon and to complete a study in Aviation Engineering & Airport management. During my study I was a business consultant for two UK based companies called Kleeneze and Euphony. 
After 2 years of living in the Netherlands, started my own business providing logistic services for companies like DHL, Roberts Europe, TNT and others in Holland.  During my graduate program I was offered the opportunity to join Stella Aviation Technics at Schiphol airport immediately after completion. 
After working and living nearly seven years in Europe I thought it was time to go back to Suriname and to share my expertise with the Suriname market.
Specialties: Motivational Speaker, Trainer, Sales & Marketing, Account management, Project management,
Personal; Business development.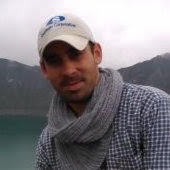 Mr. Riury Rodriguez, Global Advisor for Cuba
With a Master in Business Administration from the Catholic University of Murcia (Spain), Riury is currently working in R7V Consultores as a financial advisor for public and private companies in Cuba. His dedication is focused on helping local SMEs to establish and growth their businesses. He is also part of the Cuba Emprende initiative, working as a project consultant in the development of private business in Cuba.
Ms. Cherry-Ann Craigwell, Global Advisor, Trinidad and Tobago
Building Capacity and Employing Creativity for Increased Profits Cherry-Ann Craigwell has a passion for business development. Her experience in Retail Banking, Finance and Strategic Management has allowed both knowledge and skill capacity, to create sustainable business environments and foster opportunities of growth for many organizations and clients. Ms. Craigwell's unique approach to success defines creativity and business dynamics in organizations to accomplish the bottom line, increased profits.